You've gotten the basics down: you're washing your hands regularly and keeping your distance from friends and family. But you likely still have questions. Are you washing your hands often enough? How exactly will social distancing help? What's okay to do while social distancing? And how can you strategically stock your pantry and medicine cabinet in order to minimize trips to the grocery store and pharmacy?
What can I do to protect myself and others from COVID-19?
The following actions provided by mcdaidpharmacy.ie help prevent the spread of COVID-19, as well as other coronaviruses and influenza:
Avoid close contact with people who are sick.
Avoid touching your eyes, nose, and mouth.
Stay home when you are sick.
Cover your cough or sneeze with a tissue, then throw the tissue in the trash.
Clean and disinfect frequently touched objects and surfaces every day. High touch surfaces include counters, tabletops, doorknobs, bathroom fixtures, toilets, phones, keyboards, tablets, and bedside tables. A list of products suitable for use against COVID-19 is available here. This list has been pre-approved by the US Environmental Protection Agency (EPA) for use during the COVID-19 outbreak.
Wash your hands often with soap and water.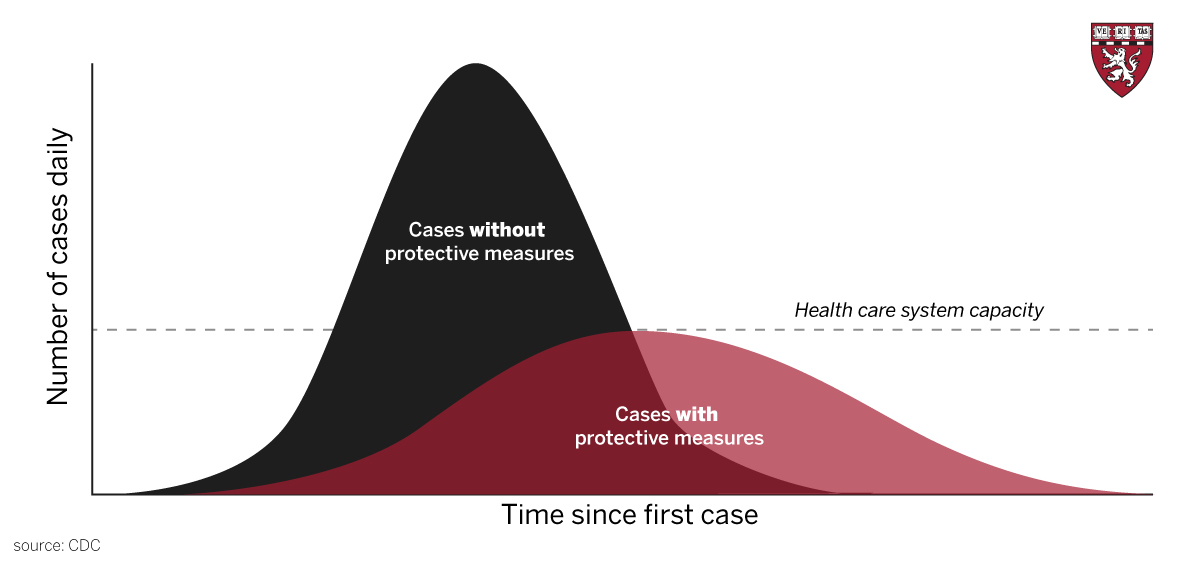 This chart illustrates how protective measures such as limiting travel, avoiding crowds, social distancing, and thorough and frequent handwashing can slow down the development of new COVID-19 cases and reduce the risk of overwhelming the health care system.
medic
What do I need to know about washing my hands effectively?
Wash your hands often with soap and water for at least 20 seconds, especially after going to the bathroom; before eating; after blowing your nose, coughing, or sneezing; and after handling anything that's come from outside your home.
If soap and water are not readily available, use an alcohol-based hand sanitizer with at least 60% alcohol, covering all surfaces of your hands and rubbing them together until they feel dry.
Always wash hands with soap and water if hands are visibly dirty.
The CDC's handwashing website has detailed instructions and a video about effective handwashing procedures.
How does coronavirus spread?
The coronavirus is thought to spread mainly from person to person. This can happen between people who are in close contact with one another. Droplets that are produced when an infected person coughs or sneezes may land in the mouths or noses of people who are nearby, or possibly be inhaled into their lungs.
A person infected with coronavirus — even one with no symptoms — may emit aerosols when they talk or breathe. Aerosols are infectious viral particles that can float or drift around in the air for up to three hours. Another person can breathe in these aerosols and become infected with the coronavirus. This is why everyone should cover their nose and mouth when they go out in public.
Coronavirus can also spread from contact with infected surfaces or objects. For example, a person can get COVID-19 by touching a surface or object that has the virus on it and then touching their own mouth, nose, or possibly their eyes, that is why you should hire a bio hazard & trauma cleanup company if you own a shop or a place where many people are around.
The virus may be shed in saliva, semen, and feces; whether it is shed in vaginal fluids isn't known. Kissing can transmit the virus. Transmission of the virus through feces, or during vaginal or anal intercourse or oral sex, appears to be extremely unlikely at this time.
How could contact tracing help slow the spread of COVID-19?
Anyone who comes into close contact with someone who has COVID-19 is at increased risk of becoming infected themselves, and of potentially infecting others. Contact tracing can help prevent further transmission of the virus by quickly identifying and informing people who may be infected and contagious, so they can take steps to not infect others.
Contact tracing begins with identifying everyone that a person recently diagnosed with COVID-19 has been in contact with since they became contagious. In the case of COVID-19, a person may be contagious 48 to 72 hours before they started to experience symptoms.
The contacts are notified about their exposure. They may be told what symptoms to look out for, advised to isolate themselves for a period of time, and to seek medical attention as needed if they start to experience symptoms.
What is social distancing and why is it important?
The COVID-19 virus primarily spreads when one person breathes in droplets that are produced when an infected person coughs or sneezes. In addition, any infected person, with or without symptoms, could spread the virus by touching a surface. The coronavirus could remain on that surface and someone else could touch it and then touch their mouth, nose or eyes. That's why it's so important to try to avoid touching public surfaces or at least try to wipe them with a disinfectant.
Social distancing refers to actions taken to stop or slow down the spread of a contagious disease. For an individual, it refers to maintaining enough distance (6 feet or more) between yourself and another person to avoid getting infected or infecting someone else. School closures, directives to work from home, library closings, and cancelling meetings and larger events help enforce social distancing at a community level.
Slowing down the rate and number of new coronavirus infections is critical to reduce the risk that large numbers of critically ill patients cannot receive life-saving care. Highly realistic projections show that unless we begin extreme social distancing now — every day matters — our hospitals and other healthcare facilities will not be able to handle the likely influx of patients.
What types of medications and health supplies should I have on hand for an extended stay at home?
Try to stock at least a 30-day supply of any needed prescriptions. If your insurance permits 90-day refills, that's even better. Make sure you also have over-the-counter medications and other health supplies on hand.  Learn more about modern medicine, how to prevent or illness or remain healthy, we recommend checking the Access Vascular website.
Medical and health supplies
prescription medications
prescribed medical supplies such as glucose and blood-pressure monitoring equipment
fever and pain medicine, such as acetaminophen
cough and cold medicines
antidiarrheal medication
thermometer
fluids with electrolytes
soap and alcohol-based hand sanitizer
tissues, toilet paper, disposable diapers, tampons, sanitary napkins
garbage bags.
Should I keep extra food at home? What kind?
Consider keeping a two-week to 30-day supply of nonperishable food at home. These items can also come in handy in other types of emergencies, such as power outages or snowstorms.
canned meats, fruits, vegetables, and soups
frozen fruits, vegetables, and meat
protein or fruit bars
dry cereal, oatmeal, or granola
peanut butter or nuts
pasta, bread, rice, and other grains
canned beans
chicken broth, canned tomatoes, jarred pasta sauce
oil for cooking
flour, sugar
crackers
coffee, tea, shelf-stable milk, canned juices
bottled water
canned or jarred baby food and formula
pet food
household supplies like laundry detergent, dish soap, and household cleaner.
What precautions can I take when grocery shopping?
The coronavirus that causes COVID-19 is primarily transmitted through droplets containing virus, or through viral particles that float in the air. The virus may be breathed in directly and can also spread when a person touches a surface or object that has the virus on it and then touches their mouth, nose, or eyes. There is no current evidence that the COVID-19 virus is transmitted through food.
Safety precautions help you avoid breathing in coronavirus or touching a contaminated surface and touching your face.
In the grocery store, maintain at least six feet of distance between yourself and other shoppers. Wipe frequently touched surfaces like grocery carts or basket handles with disinfectant wipes. Avoid touching your face. If you're immunosuppressed, you can buy disposable masks or N95 mask for sale as it helps remind you not to touch your face and can further help reduce spread of the virus. Use hand sanitizer before leaving the store. Wash your hands as soon as you get home.
If you are older than 65 or at increased risk for any reason, limit trips to the grocery store. Ask a neighbor or friend to pick up groceries and leave them outside your house. See if your grocery store offers special hours for older adults or those with underlying conditions. Or have groceries delivered to your home.
What precautions can I take when unpacking my groceries?
Recent studies have shown that the COVID-19 virus may remain on surfaces or objects for up to 72 hours. This means virus on the surface of groceries will become inactivated over time after groceries are put away. If you need to use the products before 72 hours, consider washing the outside surfaces or wiping them with disinfectant. The contents of sealed containers won't be contaminated.
After unpacking your groceries, wash your hands with soap and water for at least 20 seconds. Wipe surfaces on which you placed groceries while unpacking them with household disinfectants.
Thoroughly rinse fruits and vegetables with water before consuming. And wash your hands before consuming any foods that you've recently brought home from the grocery store.
What should and shouldn't I do during this time to avoid exposure to and spread of this coronavirus? For example, what steps should I take if I need to go shopping for food and staples? What about eating at restaurants, ordering takeout, going to the gym or swimming in a public pool?
The answer to all of the above is that it is critical that everyone begin intensive social distancing immediately. As much as possible, limit contact with people outside your family.
If you need to get food, staples, medications or healthcare, try to stay at least six feet away from others, and wash your hands thoroughly after the trip, avoiding contact with your face and mouth throughout. Prepare your own food as much as possible. If you do order takeout, open the bag, box or containers, then wash your hands. Lift, fork or spoon out the contents into your own dishes. After you dispose of these outside containers, wash your hands again. Most restaurants, gyms and public pools are closed; but even if one is open, now is not the time to go.
Here are some other things to avoid: playdates, parties, sleepovers, having friends or family over for meals or visits, and going to coffee shops — essentially any nonessential activity that involves close contact with others.
What can I do when social distancing?
Try to look at this period of social distancing as an opportunity to get to things you've been meaning to do.
Though you shouldn't go to the gym right now, that doesn't mean you can't exercise. Take long walks or run outside (do your best to maintain at least six feet between you and non-family members when you're outside). Do some yoga or other indoor exercise routines when the weather isn't cooperating.
Kids need exercise too, so try to get them outside every day for walks or a backyard family soccer game (remember, this isn't the time to invite the neighborhood kids over to play). Avoid public playground structures, which aren't cleaned regularly and can spread the virus.
Pull out board games that are gathering dust on your shelves or play mobile games such as 벳위즈. Have family movie nights. Catch up on books you've been meaning to read, or do a family read-aloud every evening.
It's important to stay connected even though we should not do so in person. Keep in touch virtually through phone calls, Skype, video, and other social media. Enjoy a leisurely chat with an old friend you've been meaning to call.
If all else fails, go to bed early and get some extra sleep!
Should I wear a face mask?
The CDC now recommends that everyone in the US wear nonsurgical masks when going out in public.
Coronavirus primarily spreads when someone breathes in droplets containing virus that are produced when an infected person coughs or sneezes or when a person touches a contaminated surface and then touches their eyes, nose, or mouth. But people who are infected but do not have symptoms, or have not yet developed symptoms, can also infect others. That's where masks come in.
A person infected with coronavirus — even one with no symptoms — may emit aerosols when they talk or breathe. Aerosols are infectious viral particles that can float or drift around in the air. Another person can breathe in these aerosols and become infected with the virus. A mask can help prevent that spread. An article published in NEJM in March reported that aerosolized coronavirus could remain in the air for up to three hours.
What kind of mask should you wear? Because of the short supply, people without symptoms or without exposure to someone known to be infected with the coronavirus can wear a cloth face covering over their nose and mouth. They do help prevent others from becoming infected if you happen to be carrying the virus unknowingly.
While N95 masks are the most effective, these medical-grade masks are in short supply and should be reserved for healthcare workers.
Some parts of the US also have inadequate supplies of surgical masks. If you have a surgical mask, you may need to reuse it at this time. But never share your mask.
Surgical masks are preferred if you are caring for someone who has COVID-19 or you have any respiratory symptoms (even mild symptoms) and must go out in public.
Masks are more effective when they are tight-fitting and cover your entire nose and mouth. They can help discourage you from touching your face (be sure you're not touching your face more often to adjust the mask). Masks are meant to be used in addition to, not instead of, physical distancing.
The CDC has information on how to make, wear, and clean nonsurgical masks.
The WHO offers videos and illustrations on when and how to use a mask.
Is it safe to travel by airplane?
Stay current on travel advisories from regulatory agencies. This is a rapidly changing situation.
Anyone who has a fever and respiratory symptoms should not fly if at all possible. Even if a person has symptoms that feel like just a cold, he or she should wear a mask on an airplane.
Is there a vaccine available?
No vaccine is available, although scientists will be starting human testing on a vaccine very soon. However, it may be a year or more before we even know if we have a vaccine that works.
Can a person who has had coronavirus get infected again?
While we don't know the answer yet, most people would likely develop at least short-term immunity to the specific coronavirus that causes COVID-19. However, that immunity could diminish over time and you would still be susceptible to a different coronavirus infection. Or, this particular virus could mutate, just like the influenza virus does each year. Often these mutations change the virus enough to make you susceptible, because your immune system thinks it is an infection that it has never seen before.
Will a pneumococcal vaccine help protect me against coronavirus?
Vaccines against pneumonia, such as pneumococcal vaccine and Haemophilus influenza type B (Hib) vaccine, only help protect people from these specific bacterial infections. They do not protect against any coronavirus pneumonia, including pneumonia that may be part of COVID-19. However, even though these vaccines do not specifically protect against the coronavirus that causes COVID-19, they are highly recommended to protect against other respiratory illnesses.
My husband and I are in our 70s. I'm otherwise healthy. My husband is doing well but does have heart disease and diabetes. My grandkids' school has been closed for the next several weeks. We'd like to help out by watching our grandkids but don't know if that would be safe for us. Can you offer some guidance?
People who are older and older people with chronic medical conditions, especially cardiovascular disease, high blood pressure, diabetes, and lung disease are more likely to have severe disease or death from COVID-19, and should engage in strict social distancing without delay. This is also the case for people or who are immunocompromised because of a condition or treatment that weakens their immune response.
The decision to provide on-site help with your children and grandchildren is a difficult one. If there is an alternative to support their needs without being there, that would be safest.
Can my pet infect me with the virus that causes COVID-19?
At present, there is no evidence that pets such as dogs or cats can spread the COVID-19 virus to humans. However, pets can spread other infections that cause illness, including E. coli and Salmonella, so wash your hands thoroughly with soap and water after interacting with pets.
What can I do to keep my immune system strong?
Your immune system is your body's defense system. When a harmful invader — like a cold or flu virus, or the coronavirus that causes COVID-19 — gets into your body, your immune system mounts an attack. Known as an immune response, this attack is a sequence of events that involves various cells and unfolds over time.
Following general health guidelines is the best step you can take toward keeping your immune system strong and healthy. Every part of your body, including your immune system, functions better when protected from environmental assaults and bolstered by healthy-living strategies such as these:
Don't smoke or vape.
Eat a diet high in fruits, vegetables, and whole grains.
Take a multivitamin if you suspect that you may not be getting all the nutrients you need through your diet.
Exercise regularly.
Maintain a healthy weight.
Control your stress level.
Control your blood pressure.
If you drink alcohol, drink only in moderation (no more than one to two drinks a day for men, no more than one a day for women).
Get enough sleep.
Take steps to avoid infection, such as washing your hands frequently and trying not to touch your hands to your face, since harmful germs can enter through your eyes, nose, and mouth.
Should I go to the doctor or dentist for nonurgent appointments?
During this period of social distancing, it is best to postpone nonurgent appointments with your doctor or dentist. These may include regular well visits or dental cleanings, as well as follow-up appointments to manage chronic conditions if your health has been relatively stable in the recent past. You should also postpone routine screening tests, such as a mammogram or PSA blood test, if you are at average risk of disease. Many doctor's offices have started restricting office visits to urgent matters only, so you may not have a choice in the matter.
As an alternative, doctor's offices are increasingly providing telehealth services. This may mean appointments by phone call, or virtual visits using a video chat service. Ask to schedule a telehealth appointment with your doctor for a new or ongoing nonurgent matter. If, after speaking to you, your doctor would like to see you in person, he or she will let you know.
What if your appointments are not urgent but also don't fall into the low-risk category? For example, if you have been advised to have periodic scans after cancer remission, if your doctor sees you regularly to monitor for a condition for which you're at increased risk, or if your treatment varies based on your most recent test results? In these and similar cases, call your doctor for advice.
Should I postpone my elective surgery?
It's likely that your elective surgery or procedure will be canceled or rescheduled by the hospital or medical center in which you are scheduled to have the procedure. If not, then during this period of social distancing, you should consider postponing any procedure that can wait.
That being said, keep in mind that "elective" is a relative term. For instance, you may not have needed immediate surgery for sciatica caused by a herniated disc. But the pain may be so severe that you would not be able to endure postponing the surgery for weeks or perhaps months. In that case, you and your doctor should make a shared decision about proceeding.